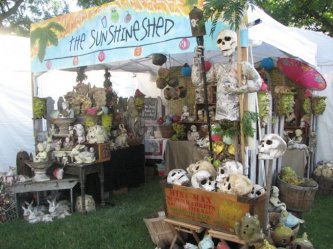 If you have ever visited our booth at a craft show, you'll know that sweet little German lady who helps you. That's Frieda Brown, the GREAT-Grandma. She moved here from Germany in 1959 with her husband and daughter. Soon after, she opened her own beauty salon in Leavenworth, Kansas. Chris, following in her mother's footsteps, also worked at this salon. However, Chris had another calling. She has always been very artistic and creative throughout her life. While she was growing up, many of her inspirations came from her father's love of gardening, holiday/birthday decorating for her children, and enjoying a simple outdoor lifestyle with her husband. In 1976, Chris used her spare time experimenting with clay, stoneware and ceramics. Some of her early creations were stoneware cutouts, dishes, ceramic dolls and ceramic cannister sets. Chris started to take her creations to craft shows in 1986. After many years of creating different projects to meet her customer's demands, she began to give her projects a primitive rustic look, which turned out to be very popular. Most of her pieces are made out of ceramic and kiln fired at extremely high temperatures to withstand the weather. Now Chris and her mother have turned their hobby into a full-time business.

In the 90's, Tommi also started to follow in her mother's footsteps. However, Tommi found her niche in creating jewelry. After Tommi and her husband, Kevin, had their first baby girl, she became their center of inspiration. Kevin creates picture frames out of old wood to display all of their baby's pictures. She is also the inspiration of Tommi's photo charms and her mother/daughter necklace sets. And now she has her own website at www.tommicrystaldesigns.com where she sells her soldered art jewelry.


Thank you for visiting our website! Come back soon as we will be updating frequently!
©2023 The Sunshine Shed. Powered by: Create A Shoppe